Date Online: 2022-11-24
Your Prime membership automatically adds a Single Property Website to each of your photography orders.
Members of PRIME automatically receive exclusive Prime products with every photo shoot order. The Prime products include 3D Tours, 2D Floor Plans, Single Property Websites, Fliers, and UiMeet3D. Below you can learn more about the Prime Single Property Website.
About the Prime Single Property Website:
The Single Property Website (SPW) is a "mini-website" for your specific listing. Through a unique URL, the SPW showcases your products, including all of your Prime products. Additionally, the SPL includes listing details, your contact information, neighborhood information, a downloadable listing flier, and more! With all of the listing information and media in one simple link, the SPW serves as an easy and effective way for buyers to learn about the property.
Click here to view and example Single Property Website.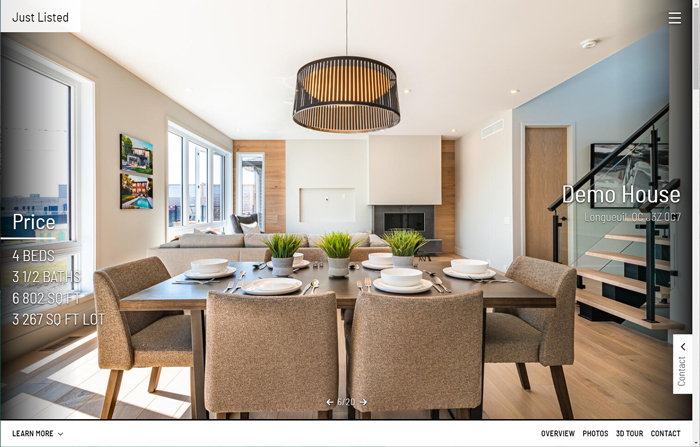 The SPW product comes with 2 links, a branded version and an unbranded version. The branded version can be used in your personal marketing, while the unbranded version can be added the the MLS. (Most MLS's do not allow links that include agent information, so this information is stripped from the unbranded version so that it complies with the MLS guidelines).
Features of the Single Property Website
The SPW includes a number of valuable features, including:
Agent Branding:

Your company logo, headshot, and contact information will appear in the branded version of the SPW. Note: You will get two versions of the SPW, one branded version to use in personal marketing, and one unbranded version to use on the MLS. Your agent information will be pulled from your profile, so please make sure your photos and contact information are up-to-date in your account. If you need any changes, please contact

customer service.
Listing Photos/Videos:

Your photos and videos will populate within your SPW. Your first photo will appear as the cover shot at the top of the SPW.
Prime Floor Plan:

Your

2D floor plan

will appear within the SPW. This product is automatically included with an Prime membership.
Prime 3D Tour:

Your

3D tour

will appear within the SPW. Viewers will be able to immerse themselves within the interactive, 3D space to tour the listing. This product is automatically included with an Prime membership.
Prime Flier:

There is a "download" button within your SPW that allows viewers to download your Prime listing flier. The flier downloads as a PDF so that the viewer can save the information, send it to a friend etc.

(This of this feature like a virtual flier box.)

This product is automatically included with an Prime membership.
Neighborhood Information:

Neighborhood data is embedded into your SPW (for free!). Potential buyers can read the "scores" of the listing that highlight area features like schools, parks, walkability, etc.
Listing Details:

Your tour will be populated with the listing details that you add when you place your order. This includes:

Listing address
Beds and baths
Square footage
Listing description

Viewing Statistics: You will automatically receive a weekly email with valuable viewing statistics included. This is great information to pass along along to your clients. If you would like to change the frequency of the email delivery please reach out to customer service (service@homevisit.com). Email delivery can be weekly, monthly, or you can stop the delivery completely.
If you need to change any of your listing information, please contact customer service and they are happy to update it for you.
What is the difference between Homevisit's Virtual Tour and the Single Property Website?
In addition to the Prime Single Property Website, offers two similar products. First, the Virtual Tour is a free add-on that is included with every order. It is a simplified version of the Prime SPW, but it does not include the majority of the features that come in the SPW. The Premium virtual tour is an upgraded version of the of free virtual tour. It costs $25 and has upgraded features and an enhanced design, however it is still lacking the many features of the Single Property Website. You are able to order the Premium Virtual Tour a la carte, while the Single Property Website is only available to Prime members.
How do I access my Prime Single Property Website
You will get an email with the links to your branded and unbranded Single Property Websites as soon as your products are complete. You will also be able to access your links to your SPW in your order history in your account.
Please note: when the Single Property Website is delivered, the 3D tour, 2D floor plan, and flier will not be finished yet. However, you are able to put the link into the MLS listing immediately when your photos are complete, as the link will automatically update once the Prime products are complete.
Want to join Prime? You can sign up here.
If you have any questions about the Prime products, or if you need any assistance adding Prime to your account, please contact us at 833.643.0445 or service@homevisit.com.